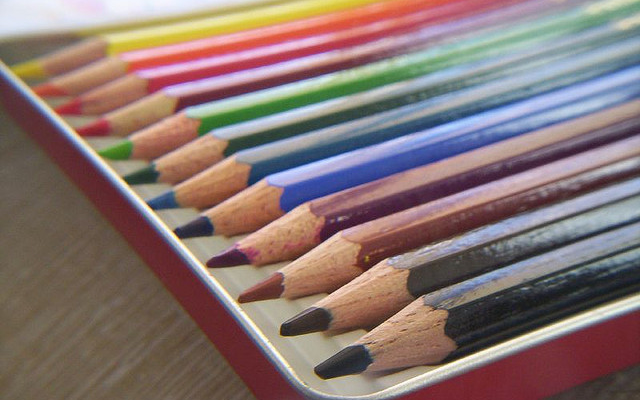 When you hear "colour pencils", one of two things would quickly come to mind; children or artists. Both words then remind you of drawing. Almost every child grew up with a colouring book and a set of pencils with an assortment of colours. Pencils are used not only by children but by adults too for various purposes. Since our focus is on colour pencils, we'll look at the history, components, types and how it can be used. We'll also briefly look at the kind of art that can be done using them.
History
Coloured pencils have been around since the golden age. It is definitely shocking but true. Though, they were not as refined as the ones available today and were not very appreciated, they were available and used for different purposes like checking and marking. It was in the 20th century that quality pencils with different colours were made for artists. Wax has been the major materialfor use for a very long time because of their vibrancy and decay resistance.
1908 was the year manufacturers started production of high quality pencils for artists. At first, the colour range known as the polychromous range was 60. Today, there are wide array of hues and this has made it possible for great strides to be made in pencil-drawing art.
Pencil art in recent times are beginning to be appreciated again because great improvements have been made and the paintings come out looking very real. However, the materials used have been looked upon with condescension by artists who think pencil art is in the lower cadre of painting and drawing.
Components
Before we take a look at the components of those brightly coloured pencils, let us see the types of pencils we have.
The regular graphite pencil
Charcoal pencils
Coloured pencils
Watercolour pencils.
The components of pencils with colour are listed below.
Extenders
Pigments
Wax
water
The lead is made up of binders and pigments and is different from the lead in graphite pencils. Water is added to the combination to make coloured lead. The extenders most times are made from real wood. When the pencils are being manufactured, the lead is placed into one half of the extender and an adhesive material is used to glue the other half to it making a whole.
Uses
Artists use them to create beautiful renderings and drawings.
Children as well as upcoming artists use the lesser quality pencils to learn to draw and paint
Types of colour pencils
There are various types of these pencils but the most basic types are three in number namely:
Oil-based
Wax-based
The most widely known and widely used are the wax based. This type has the inner core made with wax and produce glossy painting when used. The disadvantage is that they easily wear out and break. They also can make a mess of the work because of their texture and the powdery debris that collects after painting.
The oil-based type is highly recommended for quality drawings/paintings as they do not break easily nor leave debris after the work is completed.
Water-soluble pencils are not as common as the other two but are a great alternative to wax-based types.
Colour pencils prove that life is more beautiful when it's not just white and black.