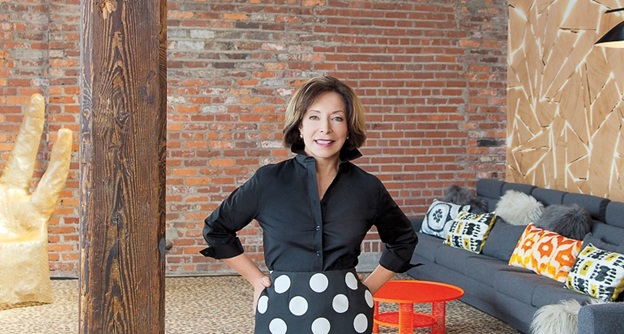 In this episode of On Creativity, Wallace interviews Prabal Gurung, creative director of his eponymous label. Gurung has dressed most famous women including Michelle Obama, Demi Moore & Oprah.
PAULA WALLACE SCAD: You just recently celebrated your brand's 10th anniversary with a powerful collection — "Who Gets to be American" ‑— and published your first book, Prabal Gurung: Style and Beauty with a Bite. This is a beautiful, beautiful book, and I just loved your introduction. It was so elegant and so you. You concluded your introduction talking about feminine energy: bravery, compassion, heart, soul. I love it. Can you talk about publishing a book?
PRABAL GURUNG: I've never been big on nostalgia. I have always been the kind of person who's trying to move forward. So the dichotomy of those two ideas is really interesting. When it was time to mark 10 years of our brand, I didn't want to do a book at first, but then I realized that my story and my success was not just mine. It's a collective effort of belief, by my team, by my parents, especially my mother, my siblings, my friends, the entire industry. I did not inherit money! I started with very little funding, savings from my time at Bill Blass, and the rest was from those who believed in me. The book became a way to say thank you. It was cathartic. It was emotional. I still haven't registered that my story happened to me.
WALLACE: Your designs have evolved in recent years. How have these creative explorations grown your brand?
GURUNG: As a creative entrepreneur, my job is to make products that sell, obviously, but also to create a product that inspires, that allows people to dream. I truly believe as creative people we are storytellers and healers. And so whatever I do, whether it's menswear or jewelry, I'm a storyteller. It's almost like when someone writes a book that then is adapted for television, then maybe into a feature film, or maybe for Broadway. This is great because you're taking the same story to different audiences. It's a bit like that. I love the challenge of different mediums. Jewelry and clothes are not made the same! Same with menswear and womenswear. Although the lines are starting to blur.
WALLACE: You launched your company at the height of the recession in 2009, quite the risk. And things are kinda back at that point again, with the pandemic and everything wrought by that world-historical change. Given where we are today, what jobs do you think new design graduates should look for?
GURUNG: Students need a realistic view of the job market, so that they are prepared for it mentally. New designers need to think about how to tell their own stories. We need new ideas right now, too. We need a think tank in fashion. So much is changing. Young people can help lead that change. I speak with different designers and retailers and we all agree: Now is a time to unlearn. SCAD students and new graduates should help with that.
WALLACE: Your brand is very focused on U.S.-based production. What has that done for your label, especially with regard to quality control and supply chain and consumer relationship?
GURUNG: Ninety percent of our clothes are made in New York. In 2009, when I launched my company, a number of factories were closing, and I wanted to give them some work, to keep them open. They've stuck around, which is great. I wanted to control the carbon footprint, and this was back before that was part of the industry conversation. U.S.-based production helps make the company more sustainable. It was also an emotional decision, because I felt that I owed it to the U.S., a country that has given me this incredible opportunity. I came here knowing no one, you know. I came here to pursue my American dream. Keeping production here has felt like giving back. But it has to make money. It's a business! For some people, a billion-dollar business is not successful. For some people, a million-dollar business could be really successful. We're building, slowly. I'm okay with that.
WALLACE: Generosity is built into your brand. Can you share the story of your foundation?
GURUNG: I started the Shikshya Foundation in Nepal almost nine years ago because I believe in education. I literally started the foundation right after I launched the brand. People were like, "Oh, he's the next 'It' boy." Fashion Week Daily said, "A Star is Born." And while it was good for the brand, it felt like too much. You know, it was a little too soon. I wanted to deserve the praise. I didn't want just to be the next thing. I remember calling my brother who lives in Mumbai and my sister who lives in Nepal and we had a chat. So why don't we start a foundation?" And that's how we started it. We started with 12 girls. Now we've gone on to more than 300 children. We build shelters, clinics, schools. We just started an education initiative for female prisoners. We do a lot art education. We've been able to impact more than 80,000 lives, and that's just in Nepal. We're donating N95 masks to hospital workers. I have the attention, I have the notoriety, I have the platform. Why shouldn't it be for good?
WALLACE: At SCAD, our students want to change the world, to make it a better place, as you've done and do. So much about launching something and making it real in the world is to find and translate your voice into a brand. How do you identify and reach your audience to make your company a success?
GURUNG: We no longer have to depend on traditional media and communication channels to tell our story. We can tell our own stories through social media and other new channels. But you know, I don't have all the answers. I'm just curious. I love to learn. The most exciting thing about being alive is the ability to learn.
WALLACE: We've all learned a lot this year, during the pandemic. How has 2020 impacted your creative process and work?
GURUNG: I think it's extremely important to acknowledge each and every moment of our lives, the highs and the lows. And this year, the highs and the lows are of epic proportions. Compassion, empathy, humility, these are not learned during the most successful times. Challenge is what teaches.
* * *
On Creativity is an interview series for creatives, by creatives. Hosted by SCAD President and Founder Paula Wallace, On Creativity features the most prominent makers, thinkers, auteurs, and inventors of our time. Every interview is also available via podcast on Spotify, iTunes, and elsewhere.