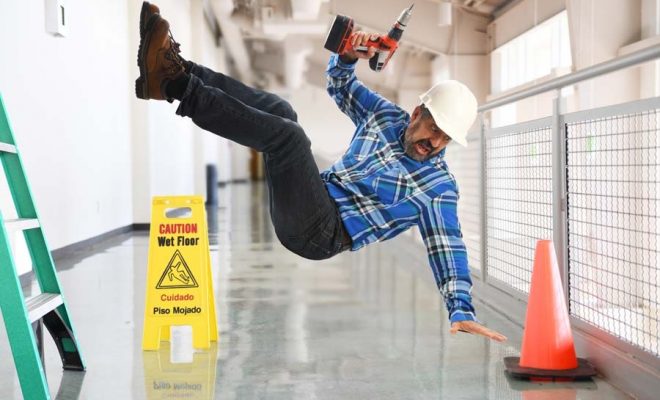 Even for those of us working the seemingly most mundane of jobs, the workplace can be a danger zone. According to the U.S. Bureau of Labor Statistics, in 2019, the private industry workforce experienced 2.8 million injuries or illnesses. Some of the top causes of workplace injury include:
Overexertion
These injuries happen with an individual is pushing, pulling, holding, or carrying an object that is too heavy. According to Liberty Mutual Company's workplace safety index, overexertion is the top cause of workplace injury, accounting for nearly a quarter of all workplace injuries and costing employers $13.98 billion.
Slips, falls, and trips
According to the U.S. Centers for Disease Control and Prevention, falls from portable ladders are one of the leading causes of workplace injury and fatality. Construction workers are the most at risk for fatal falls.
Colliding with objects or equipment
This injury, which includes when an employee runs into a low beam, for example, costs employers $2 billion a year, according to the workplace safety index.
Asbestos exposure
Although the use of asbestos has been largely cut out since the 1980s, there are still some professions in which workers can be exposed to the toxic fiber that is known for its fireproofing ability. Asbestos exposure causes more than 3,000 people to be diagnosed with mesothelioma. Although treatment methods have improved over the years, according to the Mesothelioma Hope Group, a large percentage of mesothelioma patients will die within a year of their diagnosis.
Struck by a falling object
In the construction industry, one of the leading causes of death is being struck by a falling object or piece of equipment, according to the Occupational Safety and Health Administration.
Exposure to toxic chemicals
You can become exposed to a range of toxic chemicals, including ammonia and carbon monoxide, by breathing them in, skin contact, or ingesting them in the workplace.
What to Do If You've Been Injured in the Workplace
If you have been injured in the workplace, your first step — after receiving the proper medical care — is to file an accident report and a claim for worker's compensation. Some states require that notice to the employer be made in writing, while others allow a verbal notice.
Depending on the injury, you may also need to retain an attorney to ensure you receive the compensation you deserve, including compensation for future lost wages and future medical care that your injury may require.