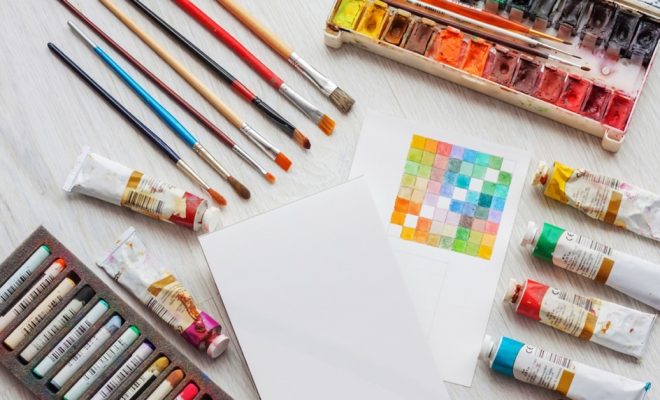 Many artists are emerging every day. The love for drawing, painting and creating is unmatched both by creators and admirers. A lot of people are finding their way on to the scene. Here are a few things professionals must have and beginners need: 
Sketchbook: A sketchbook is an artist's best friend. Just like a best friend, the pad is delivered void and an artist puts everything in it, cares for it and puts in his/her thoughts and feelings. It is a note pad filled with blank, white pages. It is usually big in size and in form of a flip book. 
Geometry box: This may not occur to most artists but having a best geometry box makes work easier. The best geometry box to use is one with compasses, dividers etc. It seems basic but it has a pencil, eraser and would save an artist from hassle when he/she seeks something basic. 
Ink dropper bottle: This is a bottle that has a squeeze top and can be used hold liquid. It can be used to hold paint, coating oil and so on. It can also be used as a measuring tool.  
Acrylic colors: This is made from a pigment that has been suspended in what we call "acrylic polymer emulsion". It is fast drying and water soluble although it becomes water resistant when it's dry. It usually comes in sets of different colors, often called as art color
Acrylic block: This is a square or rectangle clear plexiglass. It can be used to make imprints on paper. One way to use it is by scribbling all over with water based markers and spritzing a water based solution on it before plastering it on the paper. 
Brush Set: A brush is a tool used to apply paint to a canvas that usually has a wooden or steel handle and hair at the top. A brush set can be identified as a large number of brushes which all have variances in nature to serve different purposes such purposes may be attaining different types of strokes, applying differences stroke sizes and so on. 
Drawing gum: This is an easy-to-peel gum that is pasted on parts of canvas or paper that an artist wants to leave clean and free of color or pen/pencil marks. After the tool that was being prevented from touching the base of the work is applied and dried, it is then peeled off. One can say it's a protective layer. 
Pencil sets: This has to be the most obvious tool on this list. This is a wood coated let tool used for writing, drawing, shading etc. There are different types – graphite pencils, solid graphite pencils (wordless pencils), charcoal pencils, carbon pencils, colored pencils, grease pencils, watercolour pencils, copying pencils etc. 
Kneaded eraser: This is a rubber-like tool that is used to correct mistakes on canvas and drawing papers. Unlike most erasers, this resembles dough. It is flexible and this helps to ensure that it can be shaped by hand for precise erasing. Older erasers are of darker shades while newer erasers are of lighter shades. This is because of the incorporation of erased granite into it. 
Resin: This is some sort of coating or sealant that has a synthetic or plant origin. After a painting on canvas is done, it is applied in order to deliver a shine and make it more presentable.